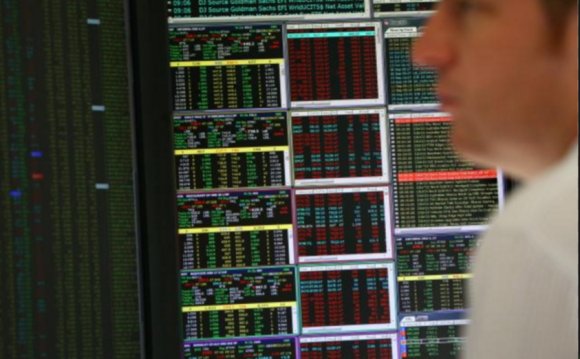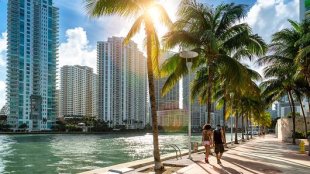 Sylvain Sonnet | Getty Images
Downtown Miami along the Miami River
The pitch for running a hedge fund from Miami or Palm Beach is hard to ignore, especially after another brutal Northeastern winter.
Taxes are low, slick offices are cheap, there's easy access to wealthy retirees and Latin American markets, and perks like good schools and ocean-front villas abound—not to mention virtually eternal sunshine.
"It's just a different quality of life, " said Kelly Smallridge, who has been recruiting asset-management firms from the New York area as CEO of Palm Beach County's Business Development Board. "People spend an entire lifetime of working to retire to come to Florida, when you can actually earn a living in Florida and live in this environment year-round." (" or "Wall Street South" as some have suggested.
"Despite the best efforts of various local development interests and certain periodicals pumping a false trend, there is no danger of a hedge fund migration to Florida, " said Omeed Malik, the New York-based head of U.S. prime brokerage sales at Bank of America Merrill Lynch.
"New York City, " Malik added, "has and always will be the epicenter of the financial industry, and neither sun nor subsidies will ever change that."
To be sure, the region's stable of registered investment advisors has grown.
There are now 500 money-management firms headquartered in Florida that run hedge, private equity, venture capital or other funds that are closed to the average investor, according to data compiled by Convergence, which analyzes public filings. That's up from 349 in May 2013 and 408 in May 2014.
A more specific breakdown of what types of firms the numbers represent or how many had moved from out of state was unavailable. Private asset managers are also relatively difficult to define and track, especially smaller ones, making it difficult to quantify their rise in the region.
According to a recent tally by communications firm Newlink Group, South Florida is home to 60 hedge funds, 19 private equity firms and more than 200 family offices. Together about $300 billion is managed by the private-wealth industry in South Florida.
By comparison, New York-based hedge fund firms alone controlled $1.14 trillion as of January, according to HedgeFund Intelligence's ranking of firms running at least $1 billion. New York is followed by Connecticut ($225 billion), Massachusetts ($156 billion) and California ($140 billion). (The totals would be much higher if smaller fund managers and private equity and venture capital funds were included.)
Read MoreDruckenmiller in Palm Beach: This could end 'very badly'
Some big moves
A few Florida newcomers have attracted attention.
Universa moved its headquarters from Santa Monica, California, to Coconut Grove last March. Firm founder—and libertarian—Mark Spitznagel cited a "more hospitable business and tax environment" in explaining the move to the Miami area. He also noted the city's proximity to Latin America and Europe and its access to international investors.
Another to come is Eddie Lampert's $3.7 billion ESL Investments, which moved from Greenwich to Bay Harbor Islands, near Miami, in June 2012. Lampert did not comment on the move, and a message left with the firm was not returned.
Other recent arrivals touted by Palm Beach County and the Miami Downtown Development Authority, which launched a "Finance Sector Initiative" in October of 2013, include:
RWC Partners, a U.K. asset manager that opened a Miami office in April to run an emerging markets hedge fund and long-only strategy using a local team it hired from Everest Capital.
SkyBridge Capital, a New York-based hedge fund of funds that opened a Palm Beach Gardens office in March 2015 (the firm is also the title sponsor of the city's first-ever bike share program, "SkyBike").
Scout Ventures, a New York-based venture capital firm that opened its first satellite office in Miami in September to source local technology sector deals.
Read MoreHedge fund Everest Capital falls off a Swiss cliff
Marc Sarnoff, a lawyer and Miami city commissioner who helps lead the effort to recruit firms as chairman of the DDA, called the effort "a work in progress."
But Sarnoff said that local officials are in discussions about moving with several large New York-area firms and that interest is only set to grow, given what he called policies unfriendly to money managers in New York.
"We actually have a PAC down here with $1 million in it to make sure he gets reelected, " Sarnoff joked about a political action committee to help progressive Mayor Bill de Blasio. "We think he has set the fertile grounds for the movement."
Smallridge called the effort a success and said her office consistently receives inquiries from interested private fund managers, although not quite as much as when the effort launched three years ago.
YOU MIGHT ALSO LIKE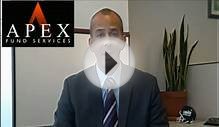 APEX Fund Services Establishing an office in Miami, Florida.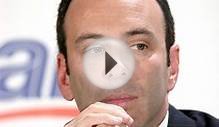 Lampert folds up tent in Greenwich, moves hedge fund to ...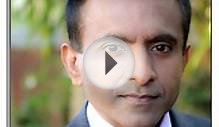 Palm Beach County Hedge Fund Information
Share this Post